Waitlist Me has been helping restaurants and other businesses better serve their customers for over a decade with simple and flexible solutions for managing wait times and scheduling. Today thousands of businesses use Waitlist Me to serve millions of people every month, increasing revenues and customer satisfaction in the process.
As we have continued to improve our waitlist, reservation, and table management features over the years, we have worked closely with a wide variety of small and medium-sized businesses across several industries and developed a deep understanding of the needs of those businesses. Recently, we noticed several challenges businesses faced in delivering consistent customer service quality in ways that were simple and efficient.
Over the past year, we have focused more of our efforts on solving some of these problems. Starting with a deep dive into discovery initiatives that involved talking to hundreds of customers and businesses, we then moved through multiple design and feature iterations to develop a whole new set of solutions that we are launching under the name Perklist.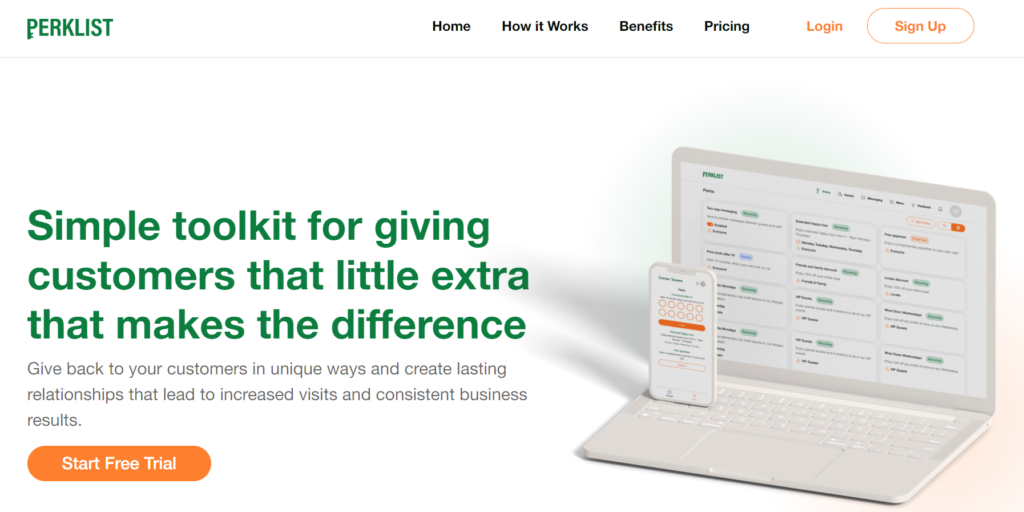 So what is Perklist? On a high level, it is a simple set of perks, or special benefits, that businesses can provide to their customers. As each business is unique, Perklist is designed to be flexible in allowing businesses to choose what perks they offer and how they use them to better serve customers in ways that fit their brands and processes. Basically, it is a versatile toolkit that businesses can use to understand, engage, and interact with their customers in more authentic ways.
To give a few examples, some key areas that Perklist can help businesses include:
– Better service – Providing better service through seamless seating and personalized benefits and experiences
– More visits – Driving more guest visits through targeted specials, timely messaging, and fun reminders
– Stronger relationships – Building stronger relationships through honest listening, consistent recognition, and genuine interactions
Perklist provides several types of perks that businesses can utilize based on their needs and goals. Some of the main feature areas include:
– Scheduling – Priority seating options through Waitlist Me integration
– Promotional – Customizable benefits that can be delivered effectively in novel ways
– Menus – Simple options to display menus, specials, and exclusive items
– Feedback – Private surveys for encouraging customer feedback and gaining valuable insights
– Messaging – Engaging group updates, question clarifications, and interactive conversations with select customers
Our journey in developing Perklist has just begun, and we see many opportunities to extend the functionality and value the service can provide to businesses and their customers. Some of these ideas are complimentary to Waitlist Me, like how Perklist can provide more choices, interactivity, and even exclusivity in scheduling visits. However, there are many other features that we didn't feel fit neatly into Waitlist Me and could better evolve as a separate service. That said, our core product goals in developing Perklist are the same as those of Waitlist Me in our focus on simplicity, flexibility and providing exceptional value, and we hope people will enjoy this new service as much as they do Waitlist Me.
We are excited to see where things go with Perklist. Check it out!