Waitlist Me was one of the first integration partners for Google's integrated waitlist features, and these features continue to be popular with Waitlist Me customers and their guests. Businesses using Waitlist Me can easily turn on these features with the press of a button to allow their customers to join their waitlist right from Google.
Google released a couple new settings for further improving the guest experience, and these are now available for Waitlist Me users in the "Add From Google" area of the settings when logged into the Waitlist Me website.
Waitlist Policy – Often businesses want to set the right expectations for what to expect after joining the waitlist from Google or give some simple instructions about how to use the feature. For example, they may want to let people know not to use the feature to make reservations or let them know to look for a confirmation after joining. Now there is a setting that can be used to display some simple text to customers when they join the waitlist from Google.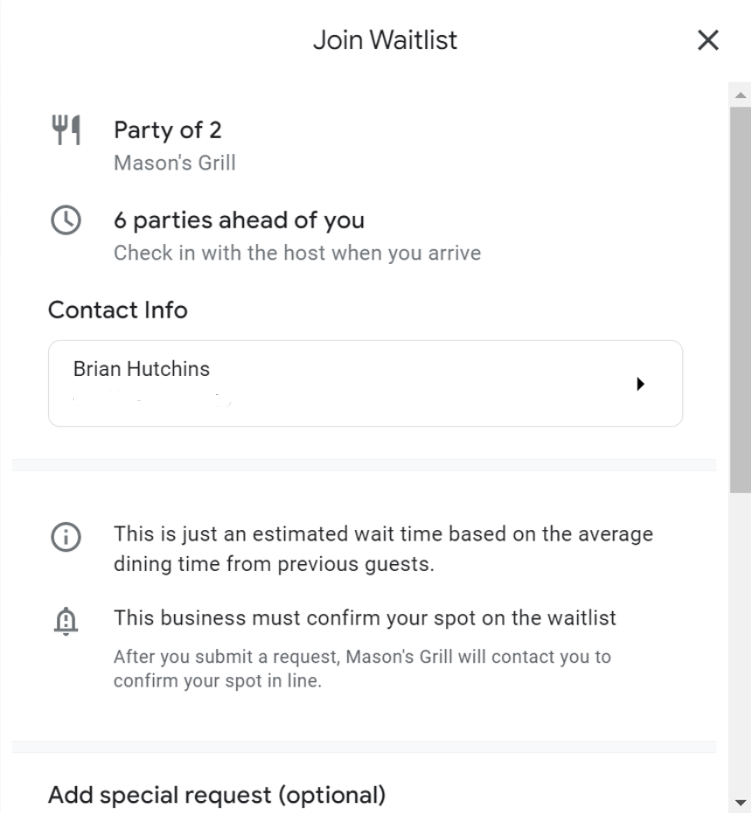 Max party size – The ability to set a maximum party size has been a feature to help avoid cases where a business might not be able to accommodate a larger party or set the right expectations. Previously though the customer wouldn't be given any additional instructions on what to do in those cases. Now there is a setting where businesses can display a message to give them a call for party sizes over the maximum.