We are happy to announce that our popular table and resource management features are now available for the online version of Waitlist Me that can be accessed on computer and tablet browsers.  Previously the resource management features were only available in our iPad and Android apps.
Whether you assign customers to tables, staff, or other resources, Waitlist Me resource management features help you make smart decisions faster and leads to better overall customer service.  Here is an example of how a salon might track which of their employees are available and who would be coming available soon.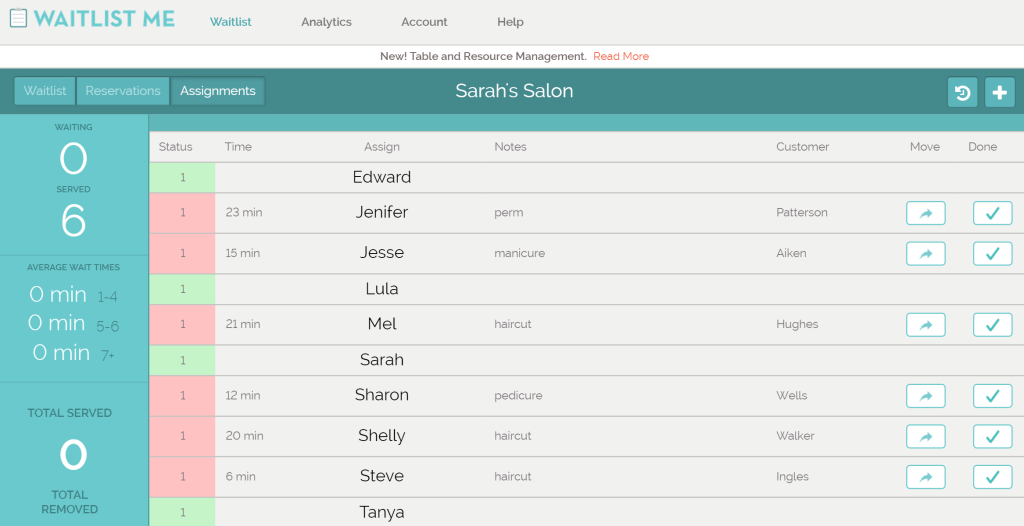 It is simple to see availability with the color of the status, and there is a count of minutes for how long they have been with a customer.  Notes and customer names give more context to how customers are being served at any given time.  Estimate times of customers waiting or with upcoming appointments with specific people or resources will also display to help know when to be ready for the next customer.
Customers can be moved between resources if needed, and when a customer is done they can be easily cleared.   Assignments are integrated with the waitlist so that when a customer that has been assigned a resource is checked off the waitlist, that resource will automatically switch to taken in the assignment view. If a customer was using that resource it will switch them with the new customer without any additional steps.
Customers can be assigned to one or more resources upon arrival or while waiting. When choosing assignments, available resources will show with a green status. Resources that are already assigned will have a red status and show the number of minutes they have been occupied with the current customer.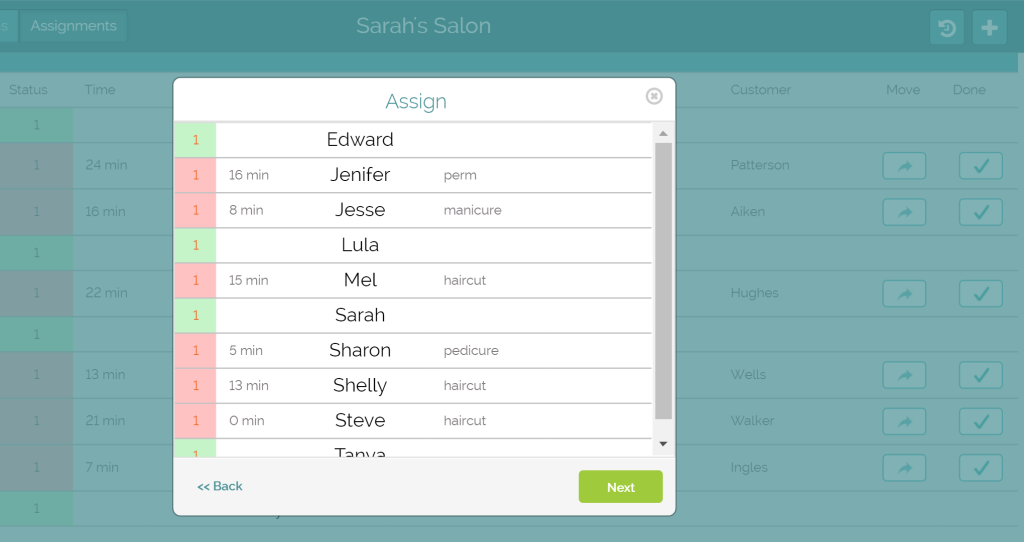 If a customer is already assigned to a resource from the waitlist or as a reservation, the estimated serving time for that customer will show along with any notes that were added. Businesses that serve groups of customers can also define resource sizes and view those sizes in the status areas. For example a restaurant hostess seating a party could scan for open table sizes that would seat six or for smaller tables that could be combined.
The more you use Waitlist Me to manage assignments, the more data you will have on how well you are managing your resources, and there are a number of new downloadable reports that can be run in the Analytics section of the Waitlist Me site. Look for trends over time with the Assignment Overview, do deeper analysis with the more detailed data in the Assignment Logs, and see results split out by assignments and sizes in other reports.