Waiting is never fun wherever you are. NoshList started as an app to help restaurants manage their waitlists and send text and phone notifications to guests when their tables were ready, and is now used by many types of businesses to improve the customer experience whenever there are waits. Here is a great example of a smart business owner at Kumon that uses NoshList not only to to shorten wait times for students ready to be picked up, but also to improve child safety, performance excellence, and business efficiencies.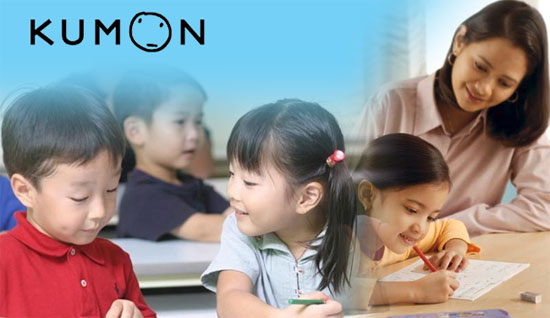 Kumon® Learning Centers have an after-school academic enrichment program designed to help children achieve more than they ever thought they could. The centers strive to teach self-learning and achievement in the academic areas of reading and math through an enrichment program that outlines steady goals for each student.
Most students spend 30-60 minutes during their individual sessions and are required to attend sessions two times a week.
"The philosophy of Kumon is to build mastery of the subject. Each subject is divided into a series of levels and each level is focused on a learning fundamental built on top of the previous ones," said Krishnadas Kootale who partners with his wife Geeta Krishnadas as Kumon Franchise operators for the Kumon Denville – South Center in New Jersey. "Because this is a long-term program, we try to make it sustainable over the long haul."
Each child is required to do homework and each one is given the time and patience needed to build greater mental stamina and focus. The goal, Kootale said, is to help the child build a strong foundation of knowledge and learning skills that they can carry with them throughout their academic career and beyond.
While the program is taught in a safe environment, Geeta and Kootale were a little concerned with what happens sometimes after class. While parents are required to pick up the children from the waiting area and children required to wait in the reception area until their parents arrive once a session is complete, sometimes students would leave the premises into the parking lot looking for their parents.
Since the location was near a state highway, the couple wanted to take extra steps to ensure the safety of their students. "Whenever you have kids, parking lots and roads nearby there are always safety concerns," Kootale said. "We didn't want the children to move around unattended."
While thinking about solutions for the waiting children, Kootale discovered how NoshList was used by restaurants to manage their waitlists. He was able to easily check out the app, and realized it was a perfect fit for his needs.
Now, when a student checks into the Kootale's learning center, the parent's contact information entered into the NoshList waitlist. At that point an alert goes out to the parent providing an estimated time to session completion. This eliminates the guesswork involved for parents who may be looking to run an errand or so while their children are in class. Once a student's session is complete, Noshlist sends a message to the parent's phone alerting that the child is ready for pick up. Once the parent arrives at Kumon, they enter into a classroom to check out their child and then leave together.
"The primary reason we considered NoshList was to set up a check-in check out system with parent alerts to avoid children moving unattended, which was not something we wanted," Kootale said. "Parents like the flexibility of being able to leave during their child's session and then be alerted when the session is completed; and with Noshlist we have such a system helping us ensure that parents drop off and pick up children at the reception area."
While using NoshList, Kootale realized there were other benefits he hadn't originally expected. With the analytics features, they are able to track each student's time used in the center. They then cross reference the student's study time against their performance, which helps them improve the educational experience for that child.
"At any time, we have the live list of the students in class. Anyone who takes longer on their studies, or who finishes sooner, we have that information in real time. We use that information for class review and plan management," Kootale said. "This real-time information is quite valuable to us."
"It's really a great app!" Kootale said.
– By Valerie Killifer, special to NoshList