When we launched NoshList in 2012, we began with a very targeted focus on the restaurant industry and a mission to solve the challenges many restaurants face in managing long wait lines. And it worked. Customizable, easy-to-use and affordable, our wait list app enhanced the customer experience and quickly replaced the antiquated pen and paper lists for our customers.
Over the past two years, NoshList has been used to seat more than 45 million diners, and the new reservations feature helps with a whole new set of scheduling challenges that restaurants face.
Along the way though, we realized that NoshList can be used in a host of other industries. Other types of businesses started using NoshList in ways we hadn't originally expected, and as they did they asked us for ways to better customize the product for their situations. So little by little we started adding more customization features, and now all kinds of businesses are using NoshList to improve their customers' wait experience.
Since NoshList can be used on iPads, iPhones, Android tablets, other mobile devices, and even computers, the app can be used just about anywhere. All that's needed is an Internet connection and a desire to make waits more bearable for customers.
Afterall, when a customer is waiting on anything — from a lane at the bowling alley to a rented boat — the wait can be like an extreme lesson in patience. NoshList works as a way to communicate with waiting parties that their lane, boat or other item is ready.
How about waiting in line for a dressing room? With NoshList, shoppers can simply add their name to the list and then continue to shop while they wait for their dressing room. Once it's ready, they will receive a text notifying them they're next in line. It's the ultimate win-win.
The same ideas apply to anywhere there might be a wait — at the pharmacy, the automotive repair center, the doctor's office or hair salon and spa.
There are few simple things businesses in other industries can do to best use NoshList. The main thing is to customize the texts that go out when a person is added to any type of wait list and when they are notified. NoshList users can also choose from a number of automated call options. Then for more personalization a business can pre-define the list of the most common notes to appear in the app with the QuickNotes feature. Finally, table numbers can be modified to represent what makes sense for a business. These numbers could represent a salesperson, chair number, rental ID or whatever resource is assigned to your customers.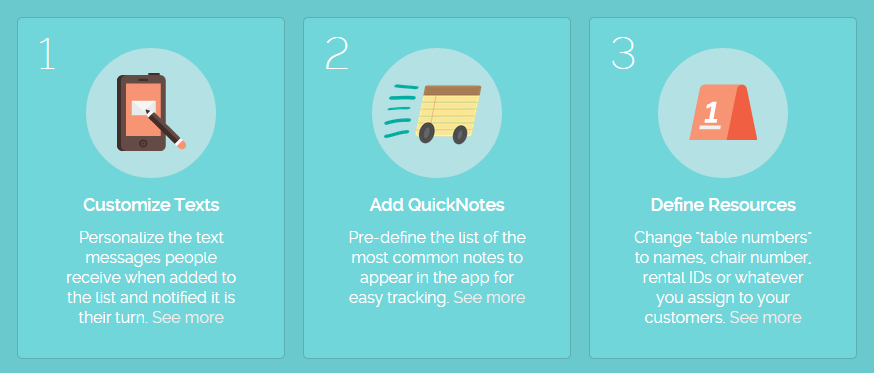 To learn more, check out our new page on how NoshList is being for different business waitlists across the country.