The new web widget makes it easy for customers to add themselves to your waitlist from your website and have their waitlist requests appear in the Waitlist Me app.  The widget has two main views and is simple to customize and add to your site in a few quick steps.
Customers can view estimated wait times or people waiting: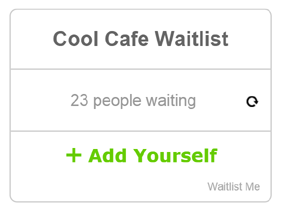 Customers can then submit their info for adding themselves to the list: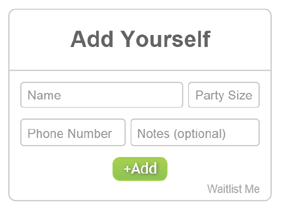 Creating the widget is as easy as switching the toggle to "ON" from your widget settings page on the Waitlist Me website. A unique widget will be created and all you need to do is copy the line of code onto your website where you'd like the widget to display.
The widget can be customized at any time, and you will see how it looks in the preview section at the top of the page. Press "Save" to keep changes and automatically update the widget on your site. Here are some of the options:
Titles – Change the text that appears on the two different screens of the widget. The first screen shows the estimated wait and the second screen appears after customers click to add themselves and enter their information
Colors – Match the widget to your website the way you like with the flexibility to change the colors of the text, background, borders, and links.
Display types – There are a couple options on what you may want to display to give people a feel of how long the wait might be, or if you choose "None" it will not show the view of the wait estimate at all and just have the fields for people to add their information.
Also, if you want to go back to the default settings after you can always click the Reset link at the bottom.
The web widget is a Waitlist Me Premium feature and adds another option beyond using the public waitlist page for customers to add themselves to the waitlist.