Waitlist Me makes it easy to let customers add themselves to your waitlist or reservations with our web widget, and we recently added features to our Pro service to control business hours this feature is available or accepts reservations.  Complementing these settings for regular business hours, there is now a feature to set specific blackout dates for holidays or days you might be closed or not taking reservations.
Simply login to the Waitlist Me website and navigate to Account > Settings > Customize Settings (under Add Yourself) > Blackout Dates. Press the green Add button, and choose the date you desire to restrict. The drop down menu lets you select whether you are closed and not taking reservation or waitlist requests or if you just aren't taking one of these options like you normally would.  For example, on Christmas you might be closed, but on Valentine's day you might be open but so busy you don't take reservations that day.

Once a blackout date is set, you can see and manage the upcoming blackout dates on this page. If you need to remove a restriction, just hover over the date and press the red X that appears on the right.  Or click on the row to edit it.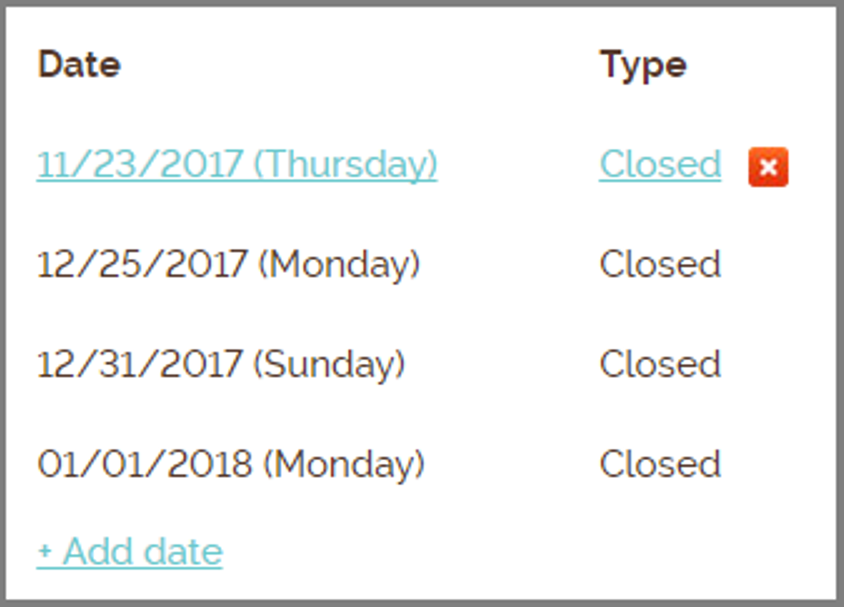 Once you have blocked off a date, if a client tries to make a reservation they will receive a message letting them know that no reservations will be accepted: