Have a smart phone? Then you can use NoshList at your restaurant. We are happy to announce that our popular tablet waitlist app is now available for iPhone, iPod Touch and Android phones. It is free for download at the App Store and on Google Play Store.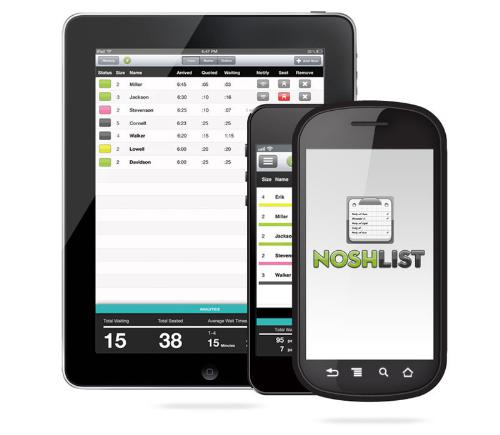 The new apps make it even easier for a restaurant to run an organized, efficient and measurable waitlist that also provides valuable guest and operational analytics. The addition of this mobile functionality to the original iPad app gives restaurant operators the flexibility to use other iOS or Android when preparing to seat restaurant diners. The mobile app also removes the barrier of needing an iPad to use the solution by offering the NoshList platform on multiple devices.
A fully featured restaurant waitlist and guest-management solution, NoshList notifies diners via unlimited free text messaging and automated phone call alerts that their tables are ready, replacing paper lists, microphones and alert buzzers.
In addition to the unlimited free version of NoshList, there is NoshList Premium for $49 per month, per restaurant. Premium features include two-way text messaging, table number assignments, in-app statistics, designated local phone numbers, and 30-day analytics. The Premium features are only currently available for the iPad app and on the website, and will soon be added to the new mobile version.
NoshList is now in use in more than 2,250 restaurants nationwide. Clients include Red Robin Gourmet Burgers, Buffalo Wild Wings, Miller's Ale House and many other national and regional brands. To date, more than 8 million diners have been seated with NoshList since the company's launch in February 2012, making it the fastest growing restaurant waitlist platform in history.