We are always looking for ways to make people's wait experience better, and we have added a new way for restaurants to engage and communicate with guests in a non-obtrusive way while they are waiting.
There is now a new NoshList Premium feature for restaurants and other places using NoshList to customize their public waitlist page on WaitList with any information they'd like their customers to see. Some ideas include daily specials, reward program information, a social media feed or video, a link to leave a review on Yelp, among others.
Here is an example of how a rewards program could be highlighted below the waitlist on the page visitors can check from their phones: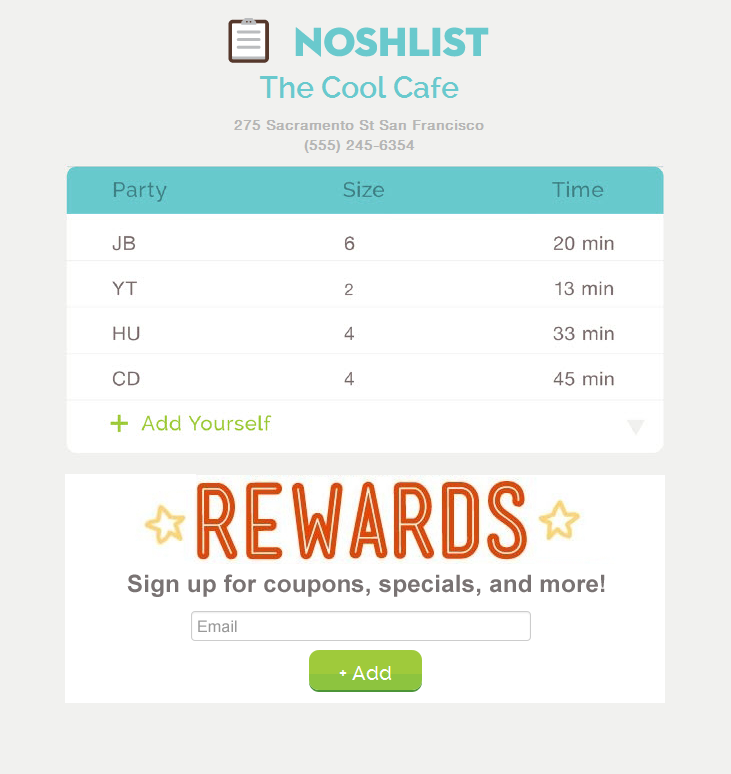 The way NoshList normally works is when a visitor has left their phone number and is added to the waitlist on NoshList, they automatically receive a text message confirming they have been added to the list and giving them a link to the public waitlist so they can check their place in line. The new feature allows guests to see more information below this waitlist, giving restaurants a great way to improve the guest experience even more and give helpful information to guests while they are waiting, right on their phone. The public waitlist can also be displayed on an internet browser in the restaurant or can also be viewed by customers from home. This public waitlist page is free for all NoshList accounts, and NoshList Premium users get access to this new customization feature as well as the option to let customers add themselves to the waitlist from their phone.
To add information to the public waitlist page, login to NoshList on the web and go to the Settings in the Account area. There is a "Customize Page" link that goes to a page where you can add text or HTML and preview how it will look on the page. Adding HTML gives you the flexibility to style the area with any fonts, colors, links, and images that you'd like to appear on the page. Otherwise you can just add text for some simple messages. There are also various online HTML editors as well as HTML views in most popular online blog services (like Tumblr, Blogspot, WordPress, etc.) that can help with formatting text into HTML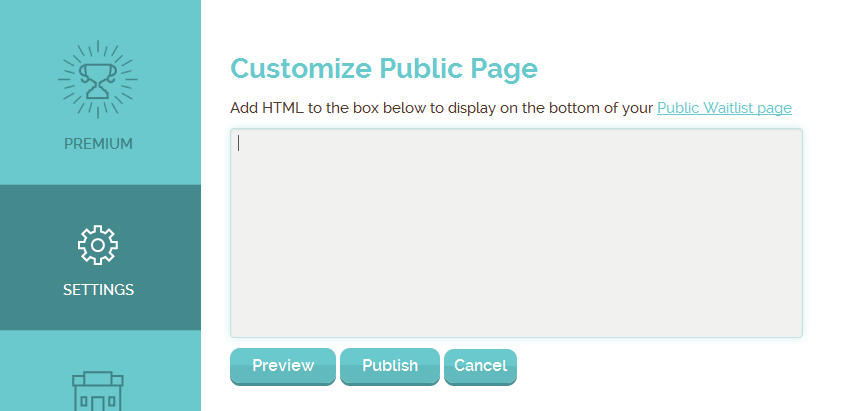 Want to customize the page even more or include the NoshList waitlist on your site? Let us know at [email protected] and we can help you with this as well.